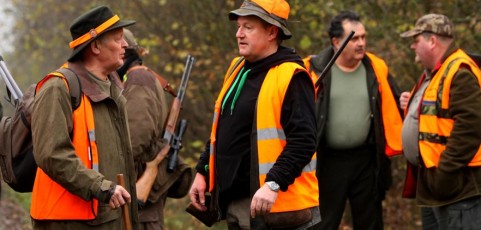 For many years, November and December have been the most dynamic months in the hunting calendar. As well as domestic tourists, the most numerous foreign visitors are those who come to us through the Basswood Sporting Agency. We organise group drive wild boar hunting for them. We usually organize hunting for groups of 12-16 hunters, with the help of 15 "beaters" and around 20 dogs, and this year we had the great honour of hosting 55 hunters from the UK. In addition to the hunting, the guests enjoyed traditional Slavonian game dishes at the Jošavac Restaurant, and rested in our comfortable accommodation units well away from the daily routine they are accustomed to.
Each hunting day we meet up at dawn and have breakfast at the restaurant, which is also the meeting place. By 8 o'clock, we all leave for the area where we have planned to hunt. We set up our stands in silence, and that's when the sweet anticipation starts, which, after the first cries of the "beaters" and barking of the dogs, becomes an excitement that can be felt in the air. Just like their guns, the hunters stand firm, waiting for the first shot. The drives usually last about two to two and a half hours, after which we all gather again and relate stories of our hits and misses, remembering the number of wild animals we met. Indeed, it takes a lot of skill and dexterity, and sometimes luck, to hit a running wild boar, so it is not unusual for there to be more misses than hits. Good shooters rejoice, while those a bit less successful look for ways to justify their failure, even though the opportunity to make up for it comes directly after a short break.
Having taken photos with the shot game richer by a few experiences, we move on to the next drive. We usually never draw numbers with groups of foreigners. Since there are always older hunters in the groups who tire more easily than the younger ones (although this isn't always the case), we place them closer, while the younger people take little walks to their positions on the stand. As our hunting ground is predominantly flat terrain, the walk isn't particularly strenuous. On average, we set up the stands along areas of 5-10 meters in width, grassy, that are used for wildlife grazing. And then the hunting can start again!
After the second drive, we go to lunch prepared in the woods. Our little hunting lodge with a nice terrace and a fire provides a brief refuge from the cold for the hunters and the "beaters", who by now are better acquainted, talking about their first impressions, expectations from the next drive, comparing their guns and equipment. There is no napping after lunch though. We set off on the third and last drive where guests who previously missed shots or did not even get a chance to shoot can make up for it.
As time flies in good company, and as the sun sets, we head back to the Jošavac enterprise happy after our successful hunting. We once again go over our shot game before handing it over to the butcher for further processing. Then we go to the restaurant where dinner is waiting for us, and where we hang out until late at night before we leave for a well-deserved rest.
On behalf of all the employees of Jošavac Ltd., I want to thank all our dear guests for visiting, and we look forward to a reunion. Also, I wish to invite all hunters to join us in our hunting activities that are yet to come.
Good fortune!

Jošavac Ltd.
Hunting Office
Saša Gojković, bacc.ing.agr.