The company Jošavac d.o.o. (hereinafter: the Company) was founded by the Jošavac d.o.o. Foundation Statement for agricultural production and trade and was entered into the court register of the Commercial Court in Bjelovar by Decision no. Tt-03/100-3 of 29 January 2003. The basic activity of the Company is agricultural production, trade and hunting, as well as services related to these. It is classified as a small company.
Nowadays the Company deals with the production of crops, seed crops and their placement on the market, as well as with hunting tourism, which is gaining in importance year after year. Since these are larger agricultural surfaces, the Company deals with the wholesale of their products, mainly to known buyers. A smaller part of the crops serve as feed and supplemental feed for game in the X/5 Jasenovača open state hunting ground, which has been leased by the Company since 2008.
The Company is fully independent in its business and is a classic example of a family enterprise with recognisable characteristics such as a commitment to work, a stable culture and great readiness to sacrifice in order to contribute to business success.
We offer high quality and ecologically acceptable agricultural products and active vacations for all lovers of untouched nature by providing specific tourist services and respecting the rich Slavonian tradition in order to meet the needs of even the most demanding.
We want to keep our respectable position on the agricultural production market and become a recognisable tourist destination in Europe, known for the excellence of service, the conservation of autochthonous values and of nature, with a constant tendency to listen to the needs of our clients.
An individual approach to the client. Each client is an individual person and demands an approach that is personally suitable. Therefore, we try to adjust our services to each individual in accordance with their needs and wishes. Only such an approach can result in mutual satisfaction and can motivate loyalty and recommendation from the client.
Environmental protection policy. Our business activities are harmonised with the existing legal regulations and norms referring to the environment. We act preventively with regard to potential environmental pollution and educate our employees on the importance of environmental awareness in order to obtain their full engagement in activities related to environmental protection. We are part of the system of integrated crop production, which means the balanced application of agro-technical measures recognising the economic, environmental and toxicological factors where, in the case of an equal economic effect, the advantage is given to ecologically and toxicologically more acceptable measures. Great attention is paid to the use of chemical means of plant protection that are limited only to the measure necessary for keeping harmful organisms below the level of economic damage, which means that only diseases and pests that can cause economic damage are treated. We use architectural solutions that fit into the natural environment and we consider environmental protection a strategic value of the company.
Business ethics. Doing business according to the business ethics principles creates a positive reputation, attracting potential business partners, bringing clients, and in the long term guaranteeing more efficiency and much lower business risks.
Awards
The prizes are recognition of our hard work as well as an incentive for future investments.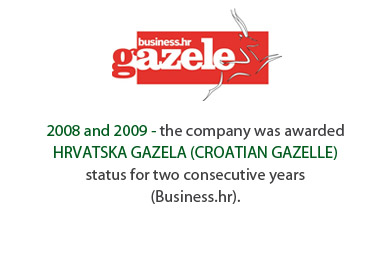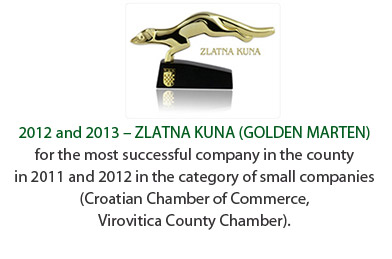 Certificates
The business is compliant with the ISO 9001:2008 and ISO 14001:2004 standards, proving that the products and services are of the highest quality and in accordance with the rational management of the environment, which is a result of continued hard work on improving the business.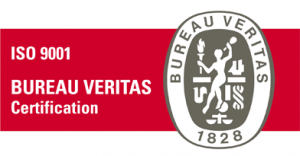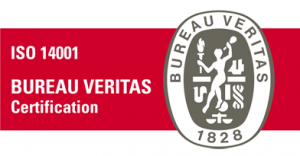 Business partners
Making our business partners satisfied is one of our imperatives and we have convinced some of the major companies in the country of this:
Basic Data
Company:

JOŠAVAC limited liability company for agricultural
production and trade

Short name:

JOŠAVAC d.o.o.

Headquarters and address:

Slatina, Vladimira Nazora 400

Basic activity:

Agriculture, hunting and related services

Legal form:

Limited liability company

OIB:

27699640127

Registration number (MB):

01694839

Registration number of the business entity (MBS):

010050543

Court of registration:

Commercial Court in Bjelovar

Founding equity:

HRK 290,000.00 – paid in entirely

Year of foundation:

2003

Accounts:

IBAN HR4023400091110109801
Privredna banka Zagreb

IBAN HR4625000091102146503
Hypo Alpe-Adria-Bank d.d. Zagreb

Director:

Srećko Bosak, B.Sc.

Member of the Management Board:

Srećko Bosak, B.Sc.